Last night I went to a Brass Concert with Daniel. They did a great job, but they nearly scared me out of my skin when they first started. I did not realize the people playing trumpets were in the back. So I was not expecting music to suddenly start.
Today has been pretty good I found out some new information about job opportunities in for Teaching English as a Second language. I also got Molly's card so I can ask her more questions. She is the Director of the English as a Second Language Center here at State.
I also got a grade report in my Interpersonal Communications class and it looks like I might be able to pull my grade up to a B even though I made a D on that first exam. Ug....
Then tonight I went to Toastmasters as a visitor. Is that weird or what? I've been a member of Toastmasters ever since I was 18 years old and I had to drop out because I could not afford to pay dues. I will be back though, they only think they've gotten rid of me! I did get a Table Topic even though I was a visiter. Then I tied for Best Table Topics with Sam. He let me have the ribbon for it though, sweet thing that he is.
It is a blustery day and I just feel like reading Winnie the Pooh. That is why I took this quiz.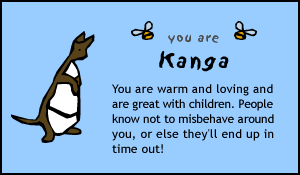 Take the 100 Acre Personality Quiz!